Wiscombe Park July 26th / 27th 2008 Results
Wiscombe Park Saturday 26th / Sunday 27th July 2008
Audi wins again, first time at Wiscombe
Having had to withdraw from the meeting at Harewood due to family illness we had a gap of nearly a month between meetings. This was our first time at Wiscombe with the Audi. The last time we had driven there was in the wet in the Lotus Sunbeam. To everyone's delight and amazement the weather was most un-Wiscombe-like – gloriously hot and sunny all weekend.
We knew that the hill would be a challenge in the Audi because of its size and restricted lock but I was hopeful that we would take Roy Bray's 2001 record. We were both quite slow in our first runs – partly due to lack of familiarity with the track and the effects of the sun/shade in different sections – but mainly because our gear selection left us off boost for too much of the run. We realized we would need to use 1st gear for Wis corner, Sawbench and Martini. Our second runs confirmed the better gear selection but Fen took the wrong line at Martini and needed to reverse and try again to get round. In my run I got round Martini OK but clipped the bank on exit and knocked a chunk off the front splitter (luckily its only plywood and no other damage was done). At least our 3rd runs were uneventful and a bit quicker – I did 43.61; Fen 51.1.
Sunday dawned clear and sunny, as forecast. We appreciated the opportunity of another practice run. Fen improved again but I had a problem with 3rd gear sticking and was worried we might have a problem developing with the gearbox. Fen went first as usual and recorded a time of 49.1, her first time under 50 secs and her personal challenge for the weekend. I had a steady first run though at 42.82 it was still outside the class record of 42.5. After a few hours keeping cool we were ready for our second runs. Fen was understandably excited to improve to another new PB of 47.91 so I knew conditions were right for the record. And I nearly achieved it. All was going well until I got to Martini where again I got stuck in 3rd gear and had to slip the clutch to get over the line. My time was 42.68 which was enough to win class but still 0.18secs outside the class record. I was disappointed because I knew I was on a good run until the last corner. Ironically the problem proved not to be the gear box but the nylon gear selector stop (the one we had problems with earlier in the season) which was easy to fix afterwards. So good results but a bit of "what might have been….".
Holding on the start: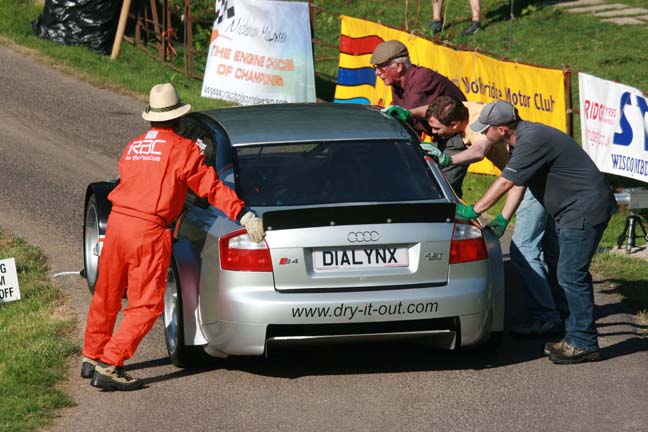 The hill's that way!: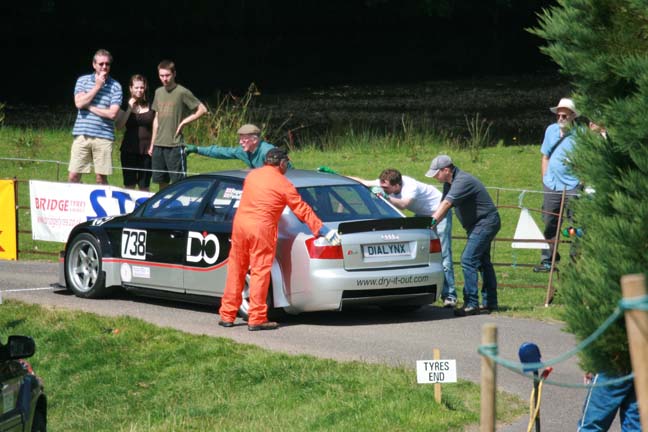 Off the line!: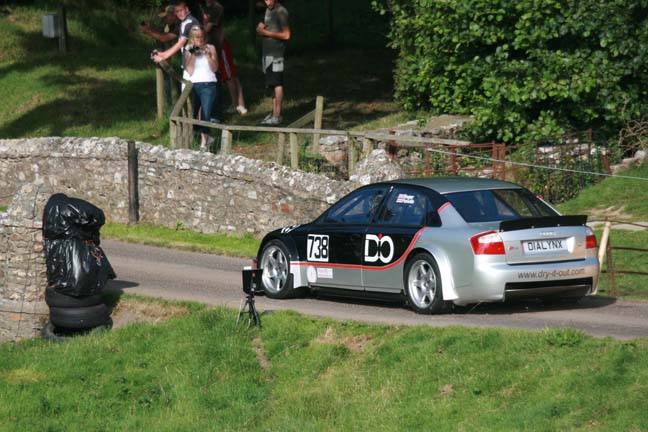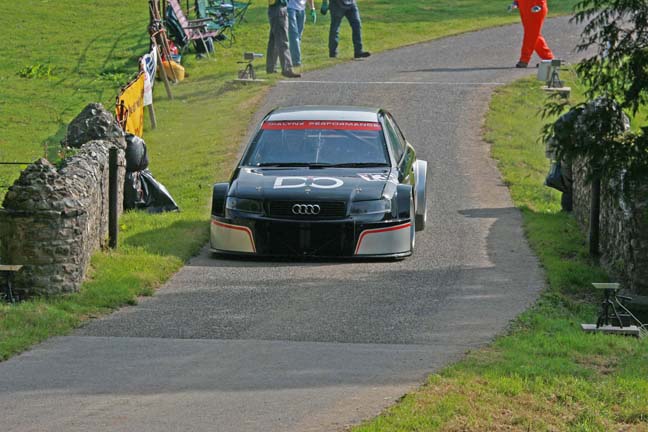 Collecting the Class award: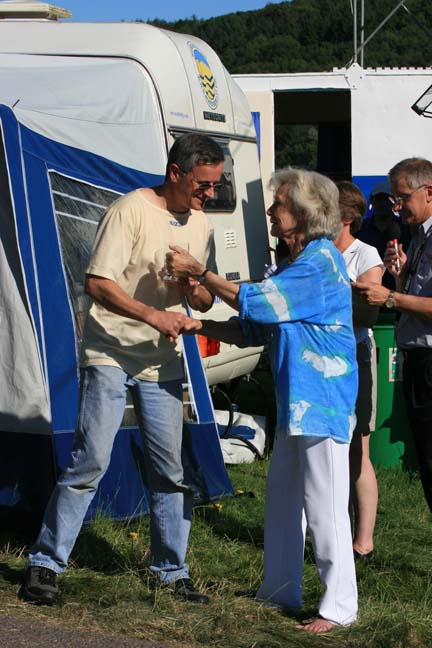 [Photographs by Stephan Lewen]