Shelsley Walsh May 4th /5th 2008 Results
Shelsley Walsh Sunday 4th / Monday 5th May 2008
A Class win for the Audi's first run of the season
Well we left last season's reports with a "poorly engine". Lots of hard work by Keith Murray at Dialynx and we were ready for pre-season testing at Kemble Airfield on 2nd May. A useful session with great promise from the rebuilt engine but some concern about a rattle (later identified as a broken ? cam chain). Accompanying family - including Dad, whose 82nd birthday it was - were entertained by various aerobatic displays.
So on to the second championship round of the season. Fen and I had had a bit of practice, taking the trusty Lotus Sunbeam out for the first round at Prescott, but we were keen to get back in the Audi. Unfortunately the weather on the Sunday was not exactly conducive to useful practice! Thunder and lightening greeted our arrival at 7am and set the scene for a warm showery day. With nothing to gain or prove in the conditions we each did one practice run on cut slicks to qualify for the following day.
Bank Holiday Monday started dry although the track was still damp for first runs. Going in an early batch and unsure of the grip, Fen did a cautious 39.29 secs. I benefited from the gradually drying track and did a 31.52 sec to lead the class. Concerned to preserve the engine until we could sort the cam chain problem, we spent the rest of the morning doing rain dances! Obviously creating rain is not our vocation as the weather stayed dry - which was of course great for spectators and most competitors! So we both took second runs. Fen improved to 35.57sec; I improved to 31.2s, enough to win the combined Ci/Cii class and relieved that we had caused no further damage to the engine..

Checking the settings: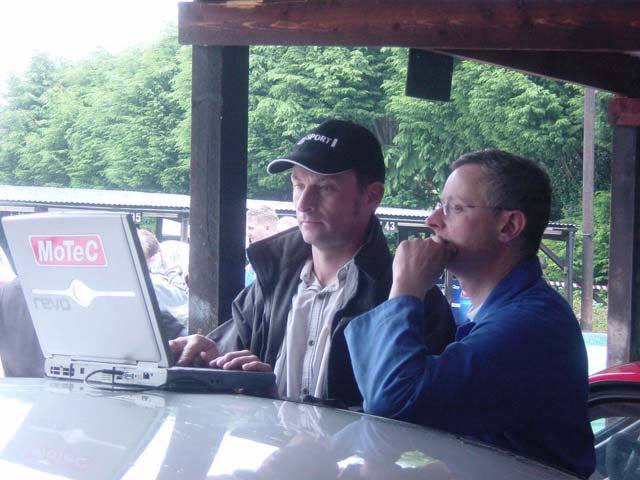 Waiting to go: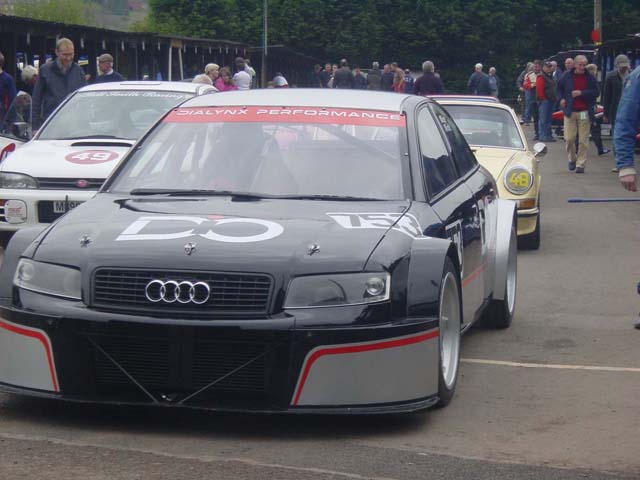 [Photographs by Stephan Lewen]