Loton Park June 7th / 8th 2008 Results
Loton Park Saturday 7th / Sunday 8th June 2008
Regained the class record!
With the half shaft replaced we were pleased to note a good forecast for the first outing of the season at Loton Park. Saturday was dry but partly cloudy and we took advantage of the three practice runs available. Fen had a fairly uneventful day, improving on each run but still disappointed to be 2 seconds off her PB. I had a more eventful day. On my first run I left the line in 1st gear, changed to 2nd and then hit the kill switch with my elbow! So we altered the alignment of the kill switch to stop it happening again. That fixed, I set off confidently on my second run, only to find 5th gear – which shouldn't be possible as 5th and 6th gears are blocked out as we never use them on the hills. The nylon gear selector stop had moved. So we fixed that and my third run was only just outside Rob's record.
Sunday was a glorious sunny day and I was hoping we had got the problems out of the way on practice day. Fen went up first and found her form again with another PB of 59.67 which eventually proved good enough for 3rd in class. On my first run I did 55.55 and was delighted to regain the class record. Unfortunately I realized on returning from my run that I had hit and damaged the two offside rims – Graham Loakes thinks I found the "rock" adjacent to the track on Cedar "straight". So we had to do our second runs with cut slicks on the rear. Fen was a bit too keen and overshot at Keepers, decided not to collect a bollard, and coasted safely to the top of the hill. I was slower on my second run but Rob hit some more bollards (and was given one as a souvenir!) so also didn't improve on his morning time. But overall a good result!
Download and view a short movie clip of Roger going up the hill, courtesy of Brayspeed and Motors TV (7.3MB)
On the start line: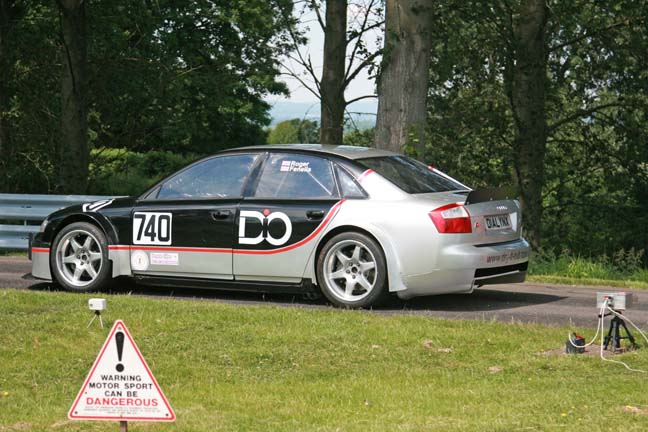 Fen at Triangle: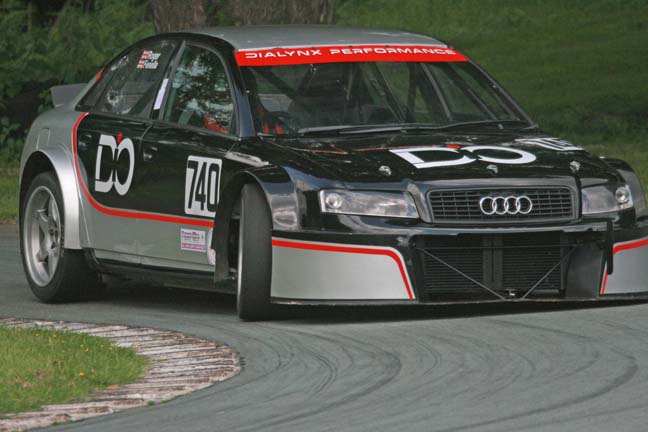 Roger takes a slightly shorter line!: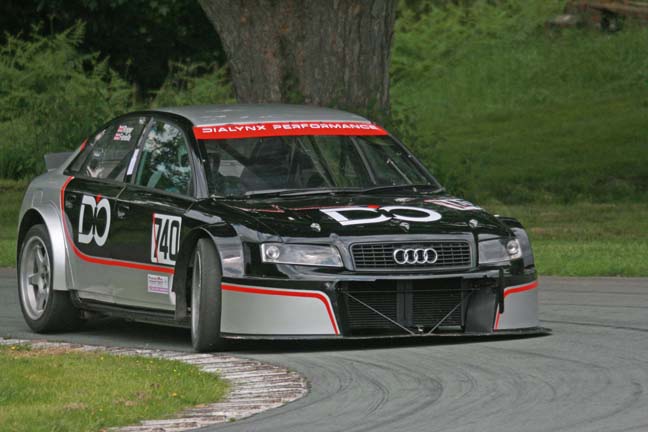 Collecting the Class award:
[Photographs by Stephan Lewen]