Loton Park August 9th / 10th 2008 Results
Loton Park Saturday 9th / Sunday 10th August 2008
This round won by the weather!
The forecast was awful for Saturday practice. We had put cut slicks on, deciding that we didn't mind changing to slicks if it was dry but it would not be fun changing the other way if it was wet. We arrived at 7am and installed ourselves with the trailer available for shelter – just as well as the rain started at 8am! Fen was third car up so although the track was damp it wasn't raining hard enough for windscreen wipers. By the time I went up I needed the wipers but was going so slowly that I had time to look down for the switch in mid-run. We stayed around for a couple of hours but there was no sign of the rain stopping so we put the Audi back in the trailer and went home to watch the Olympics. The Clerk of the Course had confirmed that one run each (albeit slow!) was all we needed to qualify for Sunday.
On Sunday morning and with a slightly more promising forecast we left home (only ½ hour away) in the dry and were encouraged to think we might get an early dry run. But just 2 miles from Loton it started to rain again. Although it stopped soon after and the sun and wind started to dry the track we decided to stay on cut slicks for first runs. This was definitely the right decision for Fen's run as there were still slippery patches especially at Triangle and the approach to Fallow. She recorded a cautious 66.11 secs. My first run could have been quicker and slicks would have been fine as the track was, by then, virtually dry but at least 58.47 was enough to lead the class. Unfortunately the class was already reduced to three as Rob Harriman's car had started making horrible noises before he set off for the meeting and Geoff Twemlow had not entered. So I knew that even a win would not help me with Championship points - there needs to be a minimum of four competitors in the class for full points to be awarded.
Still, the weather proved kinder for the rest of the day which was good for competitors and spectators and we had a dry track for second runs. I had put new slicks on the front (the others were badly worn after Wiscombe) so Fen had the job of bedding them in. As it was the only dry run of the meeting she was not as focused as usual and missed a gear after Museum but still recorded a time of 60.54, enough for 2nd place in the class. Having watched the other competitors during the morning I doubted conditions were right for a record-breaking run but I nearly achieved it! Unfortunately the new tyres were not quite settled and I locked up badly at Hall corner. After that start I was very surprised to get a time of 55.79, only ¼ second outside the record, and the class win, so a satisfactory end to a rather frustrating weekend.
In the paddock: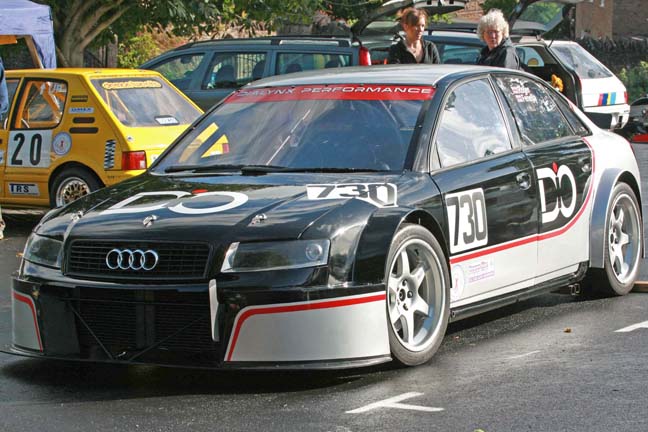 Fen safely through Triangle: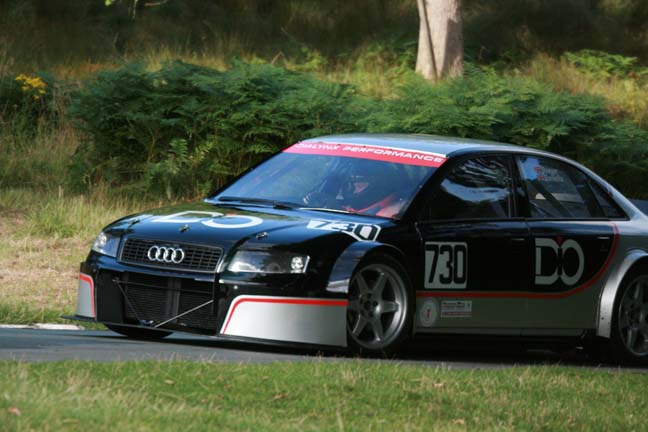 Collecting the Class award: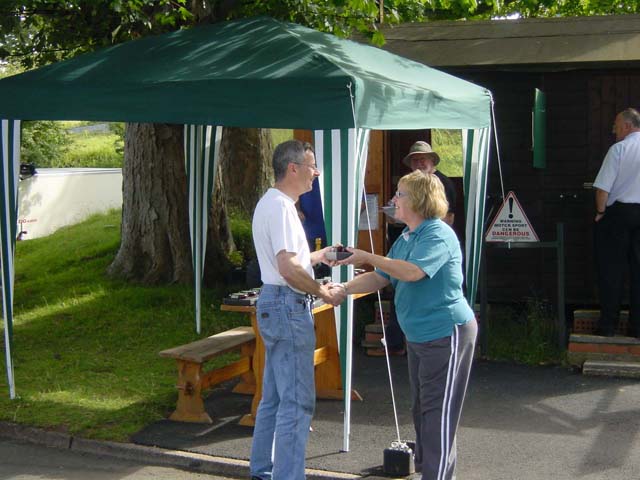 [Photographs by Stephan Lewen]