Gurston Down May 24th /25th 2008 Results
Gurston Down Saturday 24th / Sunday 25th May 2008
1st and 2nd in Class!
With the cam chain problem sorted we looked forward to our third event of the season. We were back to Gurston for first time for 4 years and the first time with the Audi. The track was damp when we first arrived so, unusually, everybody (except the otherwise excellent organizers) was quite pleased when the start had to be delayed because someone had forgotten to collect the rescue truck from Thruxton! The rest of the day was dry, sunny and very windy. We both had three useful practice runs. I achieved 34.89 secs (twice) only a second outside the class record. Fenís best was a creditable 39.29 secs. Mum and Dad were there to watch Ė having seen the forecast for the next day!. We also had the Brayspeed cameras on board so were careful to mind our language when runs went not quite as well as hoped.
Well, Sunday was as wet as forecast. We set up the tent and just tried to keep everything as dry as possible. The final practice was a useful opportunity to see how much grip was available on the cut slicks and times of 47 secs (me) and 48secs (Fen) confirmed how slippery it was, despite the four wheel drive. First timed runs were better, at 39 sec and 42 secs, respectively. Fortunately the rain stopped late morning and by the time we took our final runs there were only damp patches left so we had the opportunity to put in some good times. I managed a PB of 34.69s to win the class. Unfortunately the conditions just werenít good enough to get the class record. Fen was delighted with a PB of 37.91 secs which put her second in class, her best ever result. Altogether a great weekend and a hill which really suits the Audi - we look forward to returning for the August Bank Holiday meeting.
In the paddock: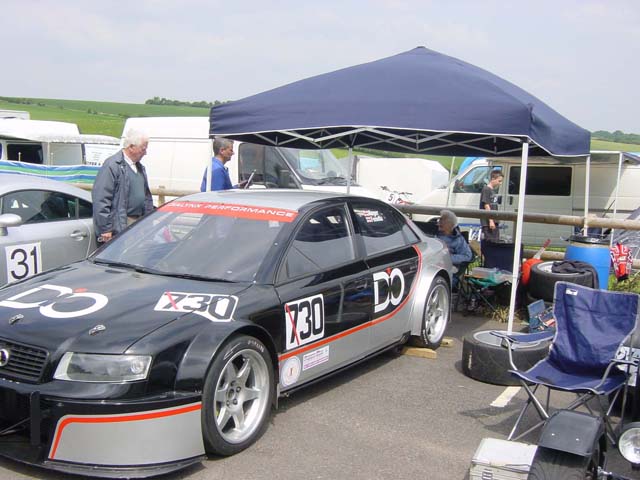 Collecting the Class Win: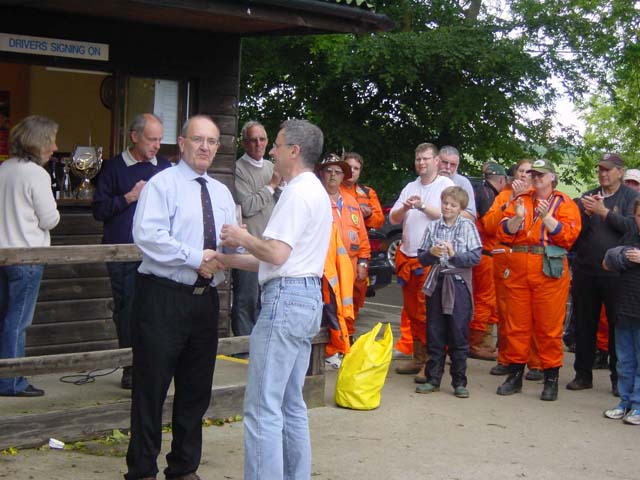 Brother & sister, first & second!: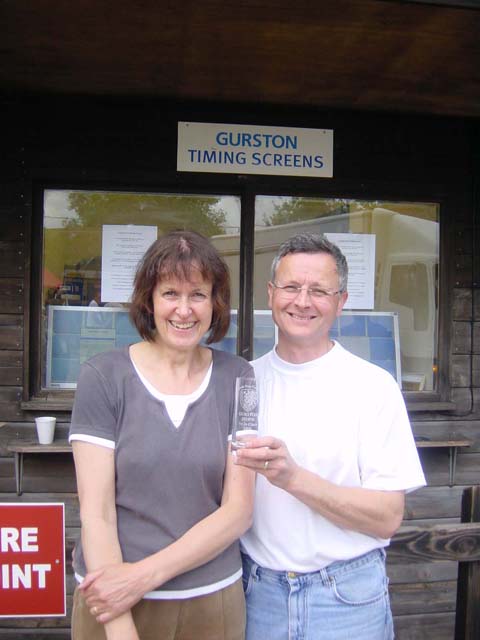 And for a bit of fun, here's a 2-second movie clip of Roger in the car (740KB)
[Photographs by Stephan Lewen; video clip by Brayspeed]