First Testing
26th Feb 2007 : Bruntingthorpe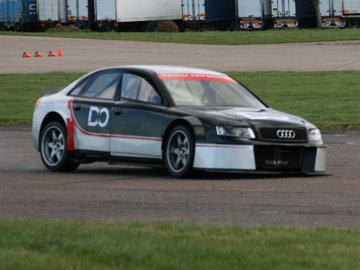 Initial testing was done at Bruntinthorpe Aerodrome in Leicestershire. This got the basic shake down completed without any major issues coming to light. Bruntingthorpe is VERY dirty though with lots of fine gravel so we needed to add a bit of paint back under the arches to get her right again!
Want to see and hear more?? - Download this video clip (3.3Mb) Now tell me this doesn't sound wonderful!
18th Mar 2007 : Curborough
First test on a sprint circuit at Curborough near Lichfield. No problems other than failed alternator belt. Terminal speed across the line was 113 mph on the second run - 5 mph faster than any other vehicle on the day - even the single seaters! Overall times were within 2 seconds of the class record despite gentle starts and far too much rear brake bias that made stopping as entertaining for the driver as the spectators!
24th March 2007 : Loton Park
Fen exiting Museum corner at Loton
Dry, cold, sunny spells - an IDEAL testing day. Managed 4 runs each up the hill gradually dialling in the suspension and getting used to driving her up a tight twisty hill rather than a flat open track. Final run of mine was a 56.57 second run putting it inside the current class record.
TIMES recorded: (first 64 feet / split time to triangle corner / total time for run in seconds)
Roger
Run 1: 2.54/23.27/58.33
Run 2: 2.23/22.63/57.05
Run 3: 2.02/22.30/56.57(unofficial class record)
Fenella
Run 1: 2.72/25.95/67.30
Run 2: 3.14/25.64/68.52
Run 3: 2.56/24.70/64.20